JOIN IN ON THE
BIRD LOVER'S MIGRATION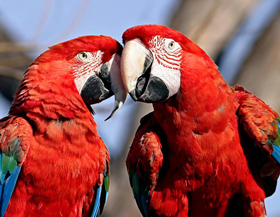 Amazingly smart and strikingly gorgeous, parrots make fantastic pets and family friends. At Camp Ranger, you can choose from a wonderful selection of domesticated birds.
When it comes to keeping your bird in good spirits, providing them with the right foods, toys, and environment is extremely important. We stock all you need to keep them fit and happy.
It is important to pamper birds - it keeps them cheerfully healthy. We provide a range of avian care seminars, grooming, and boarding services to ensure your bird is in great health.